CERTIFICATIONS
Proper testing of the product and system components against wind and rain is essential for both regulatory compliance and overall quality control.
The bioclimatic pergola has been tested to verify its wind resistance and to verify the ability to clear rainwater. The results were particularly positive: the roof resists heavy rainfall (rain load tested for 230 mm / h) and violent winds (wind resistance tested for 180 km / h).
A series of tests were carried out on the mechanical resistance of a Bioclimatic Pergola (the data refer to a series of tests in the wind tunnel on a pergola measuring 3.1 meters x 3.03 meters.
At the same time it must be emphasized that the bioclimatic pergola is solar shading and is not suitable for creating closed and hermetically insulated systems). The pergola was placed in the center of the Jules Verne wind tunnel, under the nozzles designed for rain.
The rain was produced by a network of pipes with calibrated dispersion nozzles (conical dispersion model). To reproduce the rain effect as uniform as possible on the bioclimatic pergola, the network of pipes was placed at the level of the ceiling.
The test was performed for an intensity of rain ranging from heavy (130 mm / h) to very heavy (170 mm / h) and also very severe (230 mm / h).
RESISTANCE TEST TO RAIN AND WIND
CE marking and Declarations of Performance (DoP) are synonymous with transparency, quality and safety, to provide solutions that are always in line with our values.
The CE marking means guaranteeing the consumer products that are safe and compliant with European legislation. The CE marking is mandatory for all products for which there is a community directive, it is made by the manufacturer of a product regulated in the European Union, who declares by means of the declaration of conformity or performance for construction products, that the product complies with the safety requirements provided for by the applicable Community directives or regulations.
The bioclimatic pergola with adjustable louvers and all ADARTE products meet the requirements of the reference Technical Standards and comply with:
· The requirements of the Construction Products Directive 89/106 / EC and of the Appendix ZA of the UNI EN 13561 standard
· The essential safety requirements of the Machinery Directive 2006/42 / EC Wind resistance: Technical Class 4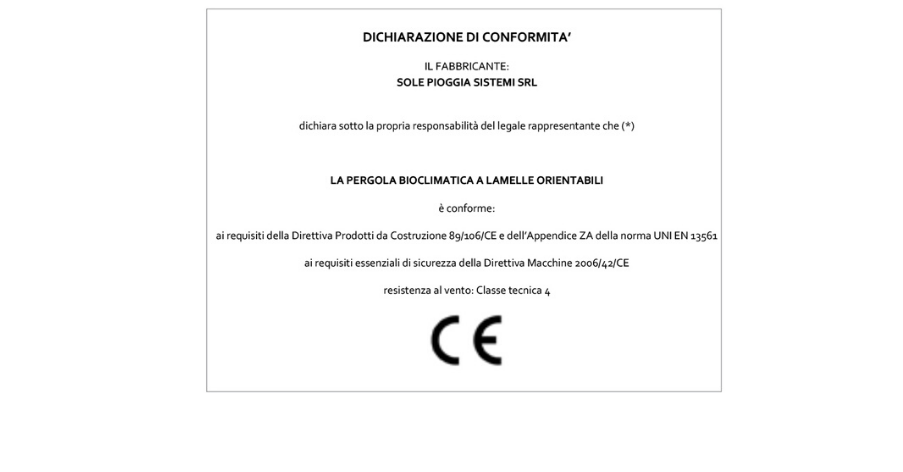 SOLAR FACTOR GTOT
Below are the values ​​of the solar factor Gtot based on the finish and the class of the solar shading (understood as the solar factor Gtot) as defined by the UNI EN 14501 standard.